Background Two Factor Authentication
Adding Spriv's unique Background Two Factor Authentication platform to your security arsenal will allow your organization to authenticate your users based on risk via a second hardware device and without user intervention. Spriv's cutting edge security platform will automatically authenticate username and password as Second Factor if the user's profile match.
Spriv's major advantages are its simplicity and being the only Remote Desktop and SSH authentication method that authenticates username and password without user intervention utilizing the mobile phone of the user as a Risk Based Two Factor Authentication.
Spriv defends systems against online attacks, malware and other dangers which defy other two factor authentication methods and hardware tokens. How? Spriv will automatically authenticate the user once the user is near an authorized computer and, equally important, Spriv can automatically inform your platform once the user has left his authorized computer.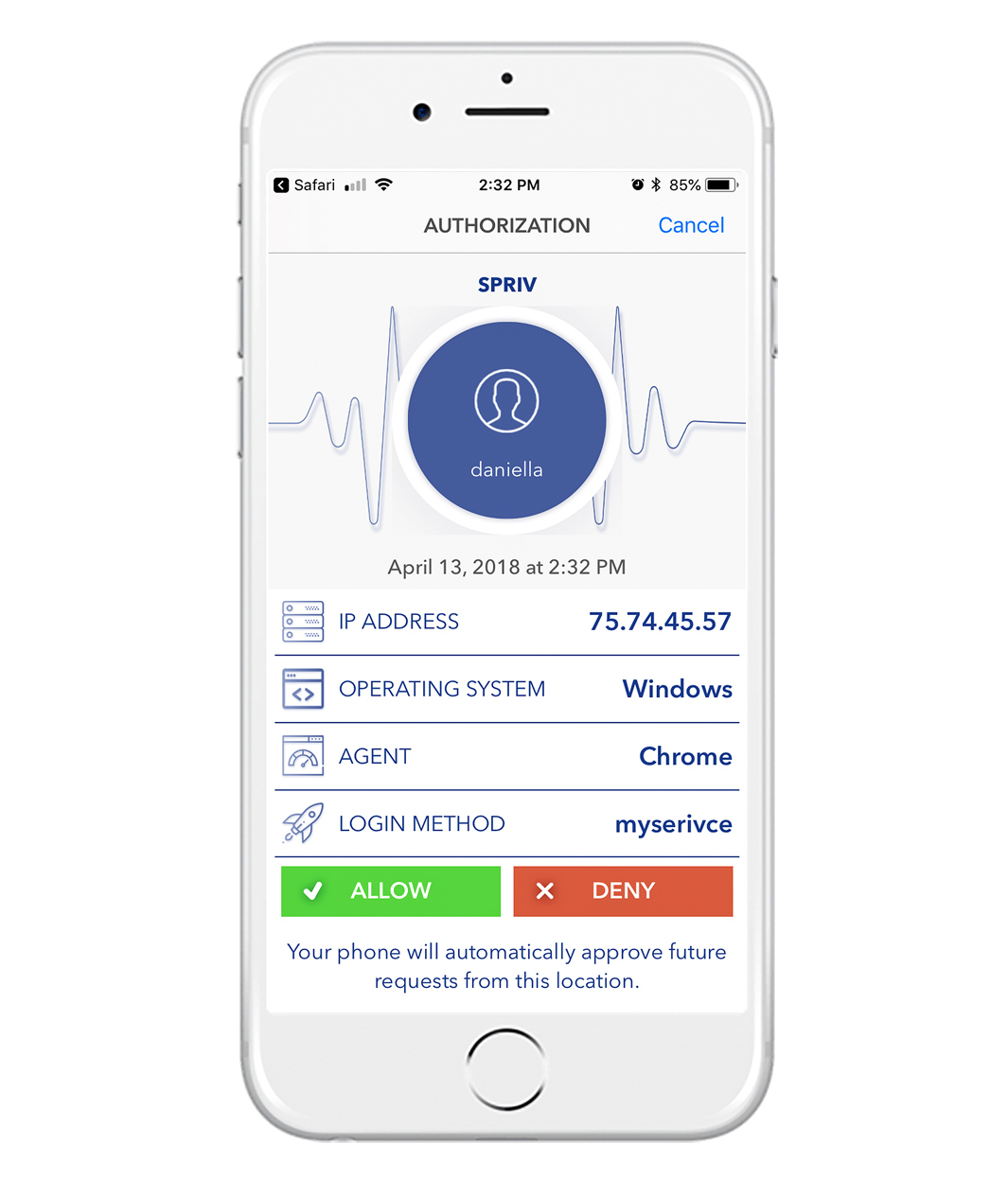 Users prefer Spriv because there's nothing additional to carry, remember or do. Spriv automatically authenticates the transaction the instant a user logs in. Because it's so easy to set up and manage, Spriv is especially appreciated by all IT administrators. Spriv works seamlessly with online transaction processes and banking applications.
Enabling Spriv for multiple commercial or retail customers is easy and cost effective. Spriv costs a fraction of what security tokens cost, with very little upkeep and customer support overhead- with no tokens to mail and no additional hardware to maintain.
Spriv's unique process for Risk Based Two Factor Authentication ensures protection against ever more dangerous threats from attacks, whereas security tokens (both software and hardware) and most other two factor authentication systems are defenseless. In fact, Spriv is the only patented platform that provides automatic one click two factor authentication using the mobile phone without the need for additional user intervention.