Go to www.spriv.com and click on 'Client Login' enter your Username / Password and navigate to: 'User management'

 
End user list: This list includes all users from your company, including End Users and Administrators. In the End Users List you can see information about the users such as username, phone number, date/time that the user paired his mobile phone, and the date/time an invite (pairing SMS invitation) was sent to the user to pair his device. From the end-users list the user can pair his mobile phone by clicking on the check mark and then clicking 'invite', can edit the user by clicking on the blue computer, or delete a user by clicking on the red X. By clicking on the blue computer the editing screen for that user will open: see Update a user profile
Search End Users: using the "status" search option allows you to generate a report with the following users:

"No status filter"
"Never invited before": A pairing SMS was never sent to that group.
"Didn't complete Pairing": The user never replied to the pairing request or the system never received the pairing reply from the user.
"Never invited before or didn't complete pairing": both groups B and C.
Using the Status filter you can mark all users and in one click send an SMS invitation to a list of users that have not yet paired their mobile phones successfully. We suggest emailing the users to let them know in advance that an SMS message will be sent to them so that the users will expect to receive the pairing code and simply click on the SMS link from their mobile phone. It's also important to inform your users to install Spriv's application before clicking on the link because pairing requires that a user have Spriv's application installed on his mobile phone.The search function allows you to search for a specific user by using one of the following criteria:
Username
Mobile Phone number
First name
Last name
Email Address
Person ID
Once you find a specific user you will be able to access their profile and manage the user. For managing the user's profile please refer to update a user profile.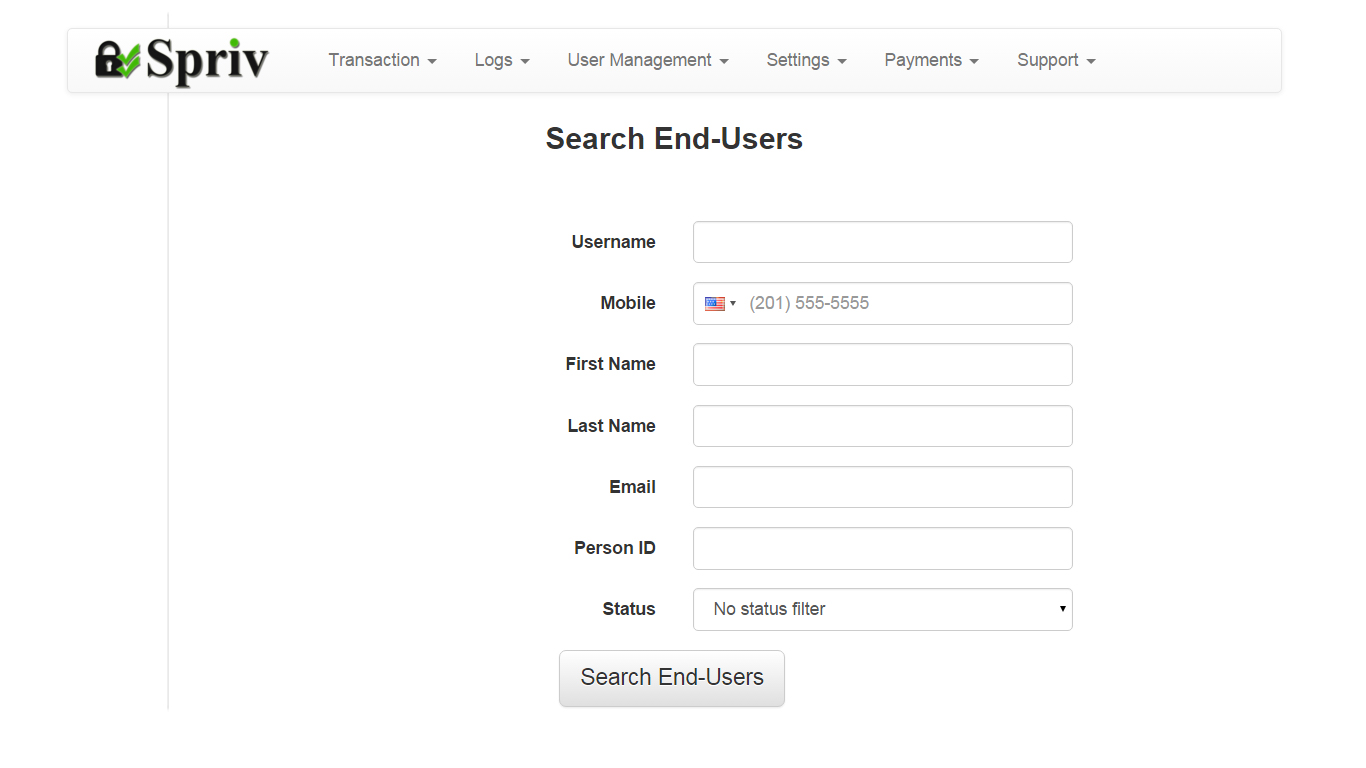 https://spriv.com/wp-content/uploads/2015/03/logo25.png
0
0
admin
https://spriv.com/wp-content/uploads/2015/03/logo25.png
admin
2011-02-17 21:11:58
2016-03-02 12:44:22
2FA Users Management Search Users